High Voltage DC⁄DC Converters
In its production phase of development, AEROSPAZIO employed a team of experienced HV personnel to develop a manufacturing system based on concepts of automated surface-mount assembly and the best elements of certain military documentation procedures.

The company facility is outfitted with specially designed, product/component-test, and burn-in fixtures including ATE and ESS. The critical Encapsulation Phase is carried out by means of Vacuum Chambers to avoid dangerous air entrapments. More than ten years of experience with High Vacuum applications has allowed us to select Low Outgassing materials (Resins for coatings, Potting, cables etc)suitable for Space applications. Inventory and material control requirements are met using an extensive, in-depth, standardized inventory of parts. Product quality is assured by AEROSPAZIO quality system, and is focused through its Step by Step Inspection System and by its Quality Coordinator. Our High Voltage DC/DC Converters are engineered products for a global market with a common design that include even ITAR Free solutions.
For application-specific configurations not supported by AEROSPAZIO standard product line, AEROSPAZIO Customer Service Department can assist on a modified standard. The modified standard can be re-ranged, trimmed or certified for extended temperature operation.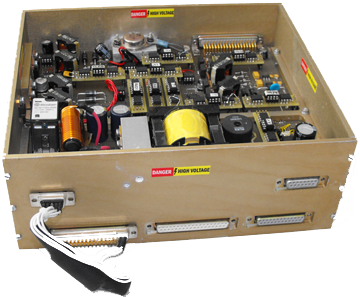 High Voltage DC⁄DC Converters